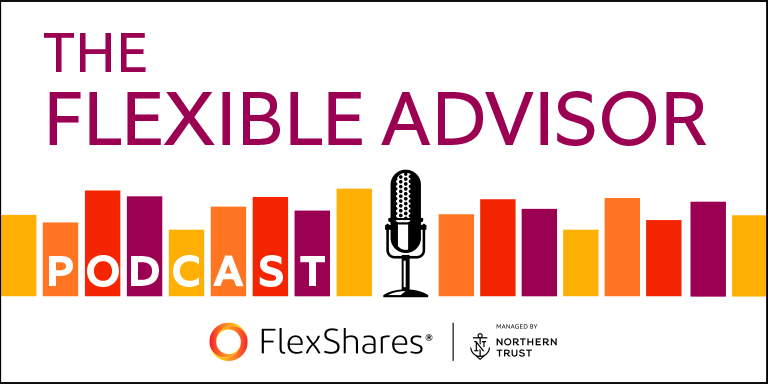 Ep 64: Trends Shaping Wealth Management Today – With Mark Bruno
Our world has changed dramatically over the past 18 months. The wealth management industry is no different.
In this episode, Laura Gregg and David Partain talk with Mark Bruno, Managing Director of Wealth Management at Informa Connect. Mark talks about his new role in expanding and growing WealthManagement.com, Inside ETFs and Inside WealthStack. He also shares his insights into important industry trends and explains what advisors need to be doing to create an intentional strategy for growth.
Mark discusses: 
Advisory M&A activity and the professional buyers driving it 

How thoughtful firms are growing by design

The convergence of asset management and fintech

Why more access to wealth management helps everyone

The future of work for advisors and its impact for clients

Advisor compensation trends
Connect With Mark Bruno:
Connect With FlexShares:
About Our Guest:
Mark Bruno is Managing Director, Wealth Management, at Informa Connect. He is responsible for developing strategies that will enhance Informa Connect's offerings for the wealth management community including media, events, and targeted business intelligence for financial advisors. Mark is focused on the expansion and growth of the firm's media and event properties, which currently consist of WealthManagement.com, Inside ETFs and Inside WealthStack along with strategic partnerships. 
Previously, Mark was a managing director with Echelon Partners, which is a leading investment banking and consulting firm to the wealth and investment management industry. While there, he specialized in helping wealth managers build strategic connections between people, performance and profitability. He focused on valuation, organizational design and assessment, compensation consulting, succession and continuity solutions. 
Mark also spent 15 years at InvestmentNews where he launched the media firm's content strategy studio, a dedicated marketing and custom content division and managed InvestmentNews Research.
Podcast: Play in new window | Download | Embed
Subscribe: Google Podcasts | Spotify | iHeartRadio | Stitcher | TuneIn | RSS | More